GSM IT 2000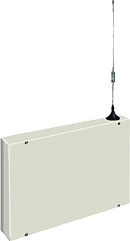 The IT-2000 GSM interface simulates a traditional telephone line (PSTN) using an integrated GSM system module.

Price

:

171.00 EUR

w/o VAT

It can be used as telephone backup's system or when the PSTN line is out of order or is not available. It's able to monitor 24h/24 the PSTN line in which is connected and automatically switch into the GSM network all telephonic devices and/or control units connected to it in case of PSTN line's breakdown. It is also possible to force an outgoing call on GSM network by switching a special input.

Main features
Analogue telephone line simulation to transfer Contact ID or SIA FSK signals to Central Monitoring Station;
Handling wired telephone line (PSTN), in case of its failure switch over to GSM line simulation;
Programmable life test;
SMS echo function to several telephone number (ex. SIM card expiry or credit exhaustion);
System status request by telephonic ringing (GSM signal, PSTN status, battery status, etc.);
The IT-2000 is also provided with O.C. outputs for the notification of the above-mentioned events.
Main package contents
GSM IT 2000
GSM antenna
Users guide